Hello again,to All :-)...In the last two months, my son Saar was working on his "Roots Work",which was definitely a "TOGETHER RESEARCH"..... finished,just the day after Purim.I don't really remember myself researching with him , since he was 5 -6 years old,investigating then, all about dinosaurs and the Solar System.I find this kind of "Together research",experience,as very important to every kid ,and especially in adolescence; To be able to learn about their roots, about far - away cultures, traditions, in a different way,mostly not from books...or internet, but by interviews, by listening to stories...I was myself even ,TOTALLY AMAZED, When I was asked by my son about my best friends over the years,or the educational I was given since kindergarten...and much more...I'll try in this post to bring some of my own experience from this work...my memories,and perhaps few stories some of you already know. His final work consisted of 60 pages, including many photos, printed by Saar himself. My first photo here show you my Blue desk, ( yes I know you already know it from different posts :-)at editing time,during Purim March 4-5.The Roots Album at evening hour, under the desk lamp.The "GATE PAGE ",using Armando Salas the famous fabulous cartoonist, Cartoon for Saar ( again thanks so much dear Armando ). Around are some of the photos we used for this work.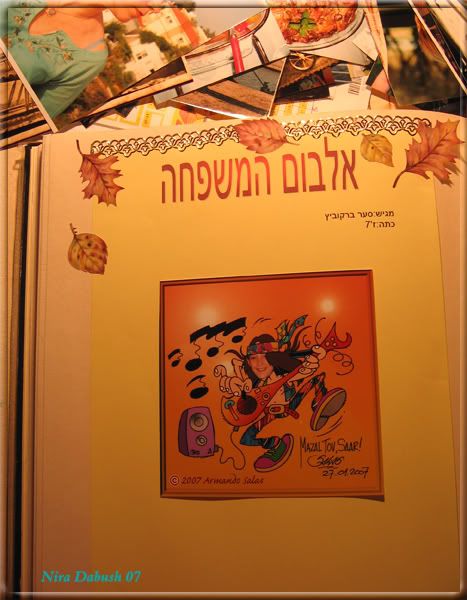 And another photo from editing time, at the Blue table, some of Saar's photos and more of our roots.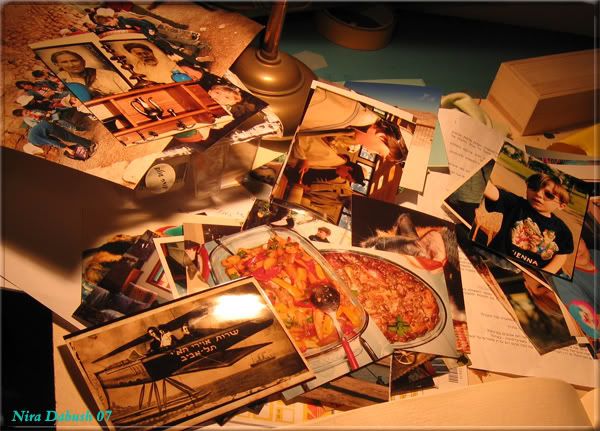 Saar chose as his main subject, to research about the Libyan roots of the Dabush family, before and after the previous century.The Dabush family has some very interesting stories from the past, including 2 important and very significant Rabbis , Rabbi Haim Dabush my father's grandfather, and his brother Refael Dabush , who served as the head judge of the Jewish Court and was loved by all the people of Tripoli for his exceptional character and modesty.
Here is a photo taken in my parents home, of Rabbi Refael Dabush.
And my father grandparents : Aziza & Haim Dabush & Refael Dabush at my parents home, in March 05.The original photos,were much smaller ,taken in Lybia before 1900,Brought to Israel by my father's grandmother,who took those photos to enlarge them in Tel - Aviv 1936.In the 80's one member of the family ,gave my father these 3 photos totally ruined.My father gave those photos to a special photographer to try restore them,He did his best ,I guess...and those 3 photos hannged in my parents wall,up their stairs.The other decorative items in the photos,are only for decoration purpose,NOT for any kind of traditional ceremonies.My parents R very modern people...not religious .
More in this roots work...about people and kids of the family.....Here is several kids of the family, My father Aaron holding,Daniel.....And the boys are sitting :-) From left to right, Ilay, Yarin, Gal and Saar.
Objects that goes in the family...Here on my Blue desk, at editing time...you can view part of the objects,edited into the album.On the left side of this photo ,you can view the place I type now for you this story :-))...And if you check very carefully, you might see the FAMILY TREE,Leaned against the wall...We were so busy, that I even hadn't the chance to really take a shot of the family tree.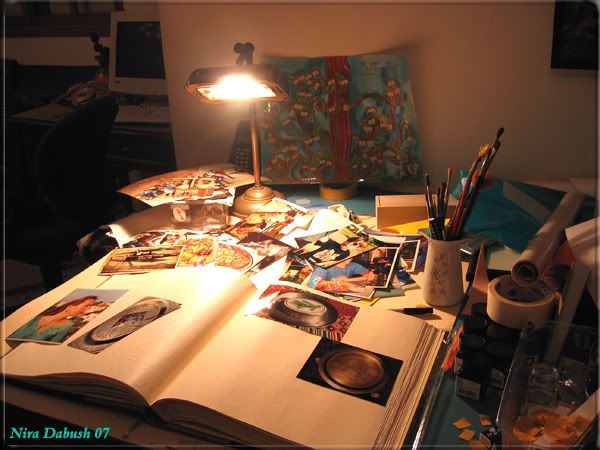 customs , traditions, food in the family...and much more,Here you can view a dining table arranged before a family meeting, at Shabbat, or feasts...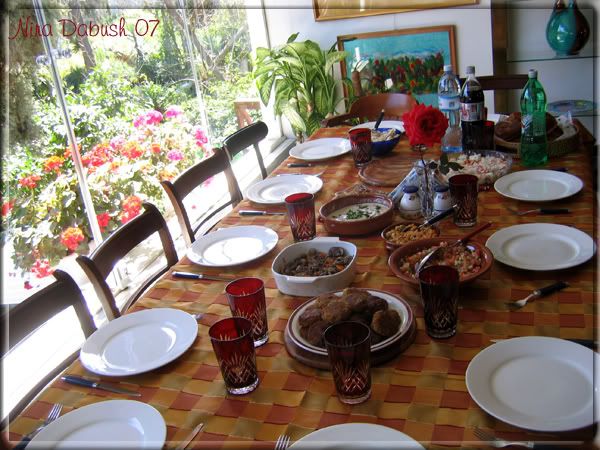 As my mother says : " The eyes eat too "...INSPRING, I think...My mother used to make especially Libyan food,since she herself love it :-)like ALL of us, after many years of cooking, she started to make Polish food, inspired by her own roots.NOWADAYS, At her personal library of cooking, you can find so many different types of food coming from many parts of the world...She definitely has fantastic senses for tastes and colours. Here's 2 photos from her menu ,"BETEAAVON" = Bon appetit !! Chicken in mushrooms & peppermint.....AND The second one is mixed vegetables.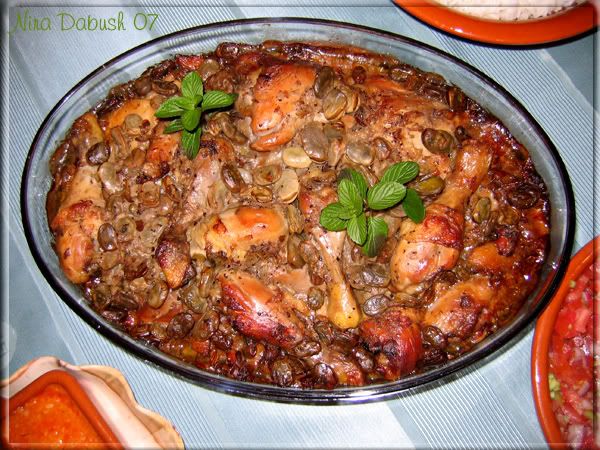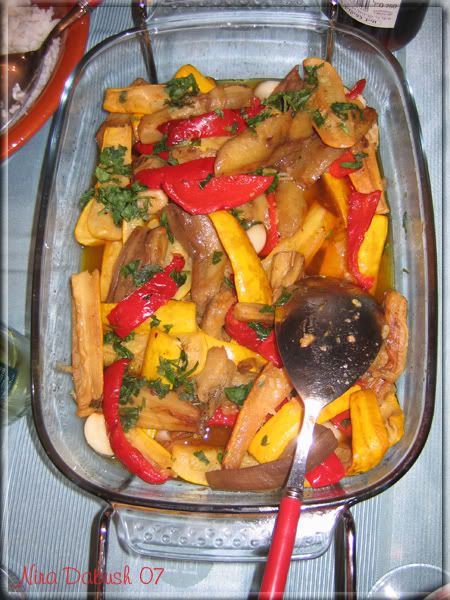 The roots work, investigate also celebrations in the family , such as birthdays,Bar - mitsva.In the next photo ,you can see Saar himself at the "wearing phylacteries" ceremony ,holding the bible.
Family special talents. Well about my artistic talent I'm sure you already know :-))...just take a look at my portfolio :-)...More talents ; the MUSIC Side,which I personally inherited from my both parents, who were playing music...but especially I was influenced from my father,who used to play ALOT,During my childhood. Like my father,I played the saxophone,Clarinet and flute...BUT More then my father I also played the Piano, like my Libyan grandmother, Yole. Here is a photo of Aaron Dabush, my father in AUG , 64 playing the Clarinet at the celebration of my birth, at my Polish grandparents apartment...A photo that somehow only lately I discovered.When I look at my father here, so young,26 years old actually, I see how so correct he hold the Clarinet,I can hear the music.......perhaps " petite fleur "... He used to play that song, I remember.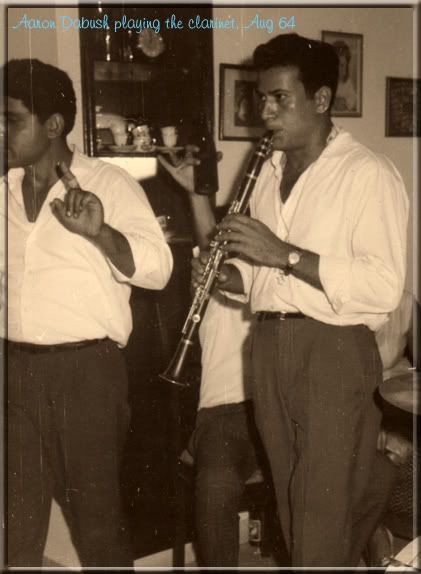 And myself as member of the Ramat - Gan youth band,playing the Clarinet,at the concert at the school of music - Yale (usa).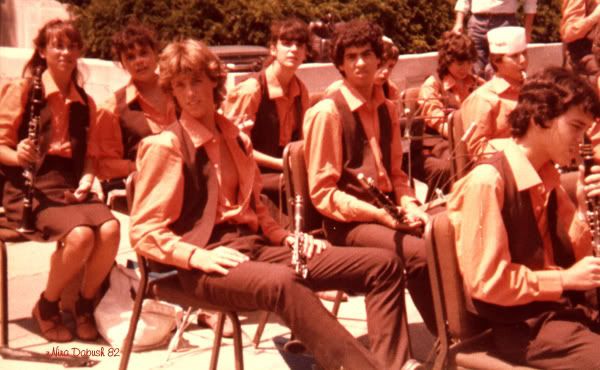 Memories from wars, including the story of Arie Kenig , my mother's brother who died in 1955.Arie means a Lion. Kenig means a king. His story and tributes in his memory, I'll post in Future, when I'll be ready to do so.
Cats & hobbies in our family. We are a family loving cats.Here's Boie my parents cat,sitting at the window...No, she does not really drinks Wine,and this photo was not planned with this bottle,it was taken about a year ago.The bottle of Dry Red Home Wine (2005), made by my father and brother Barak, as a hobby.My father started this hobby in 1989.Nowadays, my brother help him, as you can see they also has a special label,designed by my brother ,printed by my father...not sure about the Glue the use though :-)) ...Don't be mistaken about my brother by the way is not really a designer but a Computers Engineer.SO CHEERS TO ALL !!!