It looks like this contest was a little to hard for everyone. We didn't get any correct guesses. The correct answer is "a piece of pizza".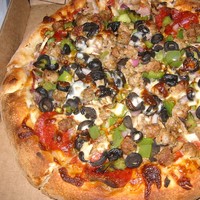 ---
MYSTERY PHOTO #16 - Contest Ends: Aug 28th, 2010
Welcome to the ArtWanted.com Mystery Photo Contest! Here is how it works...
OVERVIEW:
The 'Mystery Photo' is a photograph of an object that has been modified in some way, and you have to guess what the object in the photo is. We could zoom into a specific section of the photos, colorize the photo, invert the photo, stretch or skew the photo, make it blurry or any other way to make the photo harder to recognize from the original. You simply look at the mystery photo below and submit your GUESS as to what the object in the photo is by replying to this thread. Do not submit your own photo, we will provide the mystery photo for you.
CONTEST WINNER:
These Mystery Photo contests are mostly for fun, but we will give away a small prize to one person for each contest. After the contest deadline, our staff will review all the guesses made by our members. We will then select one (1) random winner from among the correct entries we received, who will receive a $10 credit into their ArtWanted.com Bank Account. All the other members that guessed correctly, but were not selected as the random winner, get the prize of knowing they are smarter than everyone else!
CONTEST RULES:
The rules for the Mystery Contests are simple. 1) Only one guess per person per contest 2) If you think you know what it is, DON'T tell anyone.
SUBMIT YOUR GUESS!
Below you will see our mystery photo. If you have a guess, simply reply to this message board post with your guess. Keep your answers simple, usually 1-5 words is all we need for your guess. All guesses will be hidden from the public until after the contest ends. Have fun and good luck!
MYSTERY PHOTO #16 - Contest Ends: Aug 28th, 2010
- ArtWanted.com Staff