Born in August 1964, I am a textile designer, & artist.
A graduate of the Textile Design Department in 'SHENKAR' School of Design with honors in 1988. specializing in printed textiles. Creative experience : I have designed knitwear, woven textiles and printed fabrics for the local market and for export. ( Since 1988 ) I was in charge of a studio - shop called ' SPECTRUM' in Ramat - Gan Israel, where I designed and sold many of my own products such as : drawings, silk products, jewelry and more. ( 1990 - 1994 ) I presented my work in several exhibitions among them the 'Indigo' International Textile Exhibition in Paris.
My fabrics were exhibited at the "Heimtextil" Exhibition ,international trade fair for home textiles - Frankfurt , Germany, during the 90's.
I have also led several creative workshops. ( 1998 - 2000 )
I have always felt a strong urge to express myself in different ways, using various materials in different scales and in various dimensions, through precise techniques or freely, and always using a large spectrum of colour combinations. COLOURS is what I am and artistic creation is a source of life for me. My art creation is my ultimate breath of fresh air. In 2001 I searched for additional venues of artistic expression in order to develop myself as an artist. I felt the need to deal with bulkier material in order to give more depth to my paintings, as it is with life itself.
This intention of mine applies also to textile, which is embedded deep in my soul. Be it drawing all over patterns design, on paper or silk, I have searched for a way to touch textile itself in order to create images or designs, as I am touching the textile physically and from that creating something new.
while surfing the net and investigating the relevant literature I found two elements which in my mind unite textile and art:
Designing traditional English rugs and ' painting ' with sheep wool fibers, Felt making.
I followed my dream and went to England to study these techniques with local artists.
I exhibited my ART at the Florence Biennale - 2005.
Today, I am working in my private studio placed in Ramat - Hasharon Israel, towards an exhibition while focusing on quality and aiming at expressing myself fully. ~~~~~~~~~~~~~~~~~~~~~~~~~~~~~~~~~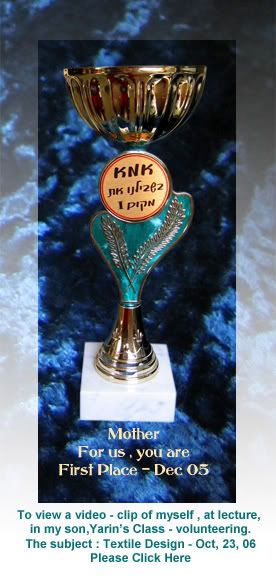 Above you could view a video - clip of a lecture,I gave in my son Yarin's class, in the subject of Textile Design ( Oct,06 )...I volunteer to do these kind of lectures ,like I usually do each year,in different artistic subjects.I chose to speak to the kids about Textiles,because one day ,my kid came home from school...almost crying, perhaps even crying...When I asked him what happened ?..He said to me 2 boys from his class said, his trousers are a trousers of a dwarf or something like that...So..I said to him,you don't have to go with this trousers anymore for school.He answered to me...But mother,I love these trousers...So I said to him..so you'll go with them...each one has his/her own taste...I also love your Cotton plaid trousers...And I suggested to him a lecture about Fabrics and textile design for his class.Immediately he smiled...and that's that ..!! :-)
Hope you enjoy your visit at my portfolio...Please come visit again.Thanks for viewing my ART, and commenting, NIRA.
Art/Drawing Misc.