As many of you guessed, the correct answer was a battery! It looks like we are going to have to make these contests much harder for everyone. We hope you had fun.

Our random winner was Amanda Holtman.

Great job on the guesses and be sure to check out the other Mystery Contests that are open for guessing. Thanks to everyone that participated.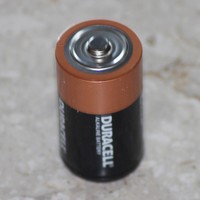 ---
Welcome to the NEW ArtWanted.com Mystery Photo Contest! This new 'Mystery Photo' contest is something we would like to have several times a month to add some additional fun to the website. Here is how it works...
OVERVIEW:
The 'Mystery Photo' is a photograph of an object that has been modified in some way, and you have to guess what the object in the photo is. We could zoom into a specific section of the photos, colorize the photo, invert the photo, stretch or skew the photo, make it blurry or any other way to make the photo harder to recognize from the original. You simply look at the mystery photo and submit your guess as to what the object in the photo is. Some photos will be easy to guess the correct answer, others will be more difficult, but all contests will be fun to participate in.
CONTEST WINNER:
These Mystery Photo contests are mostly for fun, but we will give away a small prize to one person for each contest. After the contest deadline, our staff will review all the guesses made by our members. We will then select one (1) random winner from among the correct entries we received. That lucky winner will receive a $10 credit into their ArtWanted.com Bank Account, which can be used to purchase any products/services from our site at no cost. All the other members that guessed correctly, but were not selected as the random winner, get the prize of knowing they are smarter than everyone else! After the winner has been chosen, we will announce the winner on the boards. We also plan to post an additional photo of the original object for everyone to view, if we have one available.
CONTEST RULES:
What would a contest be without a few rules? Here are a few that we think make sense for these contests: 1) Only one guess per person per contest (If you submit multiple guesses, all your entries will be thrown out.) 2) If you think you know what it is, DON'T tell anyone. Just submit your contest entry quietly on the boards and keep the glory to yourself when you are correct. That is all the rules we can think of right now, hopefully that is all we have to have.
SUBMIT YOUR GUESS!
Below you will see our first mystery photo. If you have a guess, simply reply to this message board post with your guess. Keep your answerers simple, usually 1-5 words is all we need for your guess. All guesses will be hidden from the public until after the contest ends. Have fun and good luck!
MYSTERY PHOTO #2 - Contest Ends: August 3rd, 2008
- ArtWanted.com Staff